Wisconsin Summer Events in 2021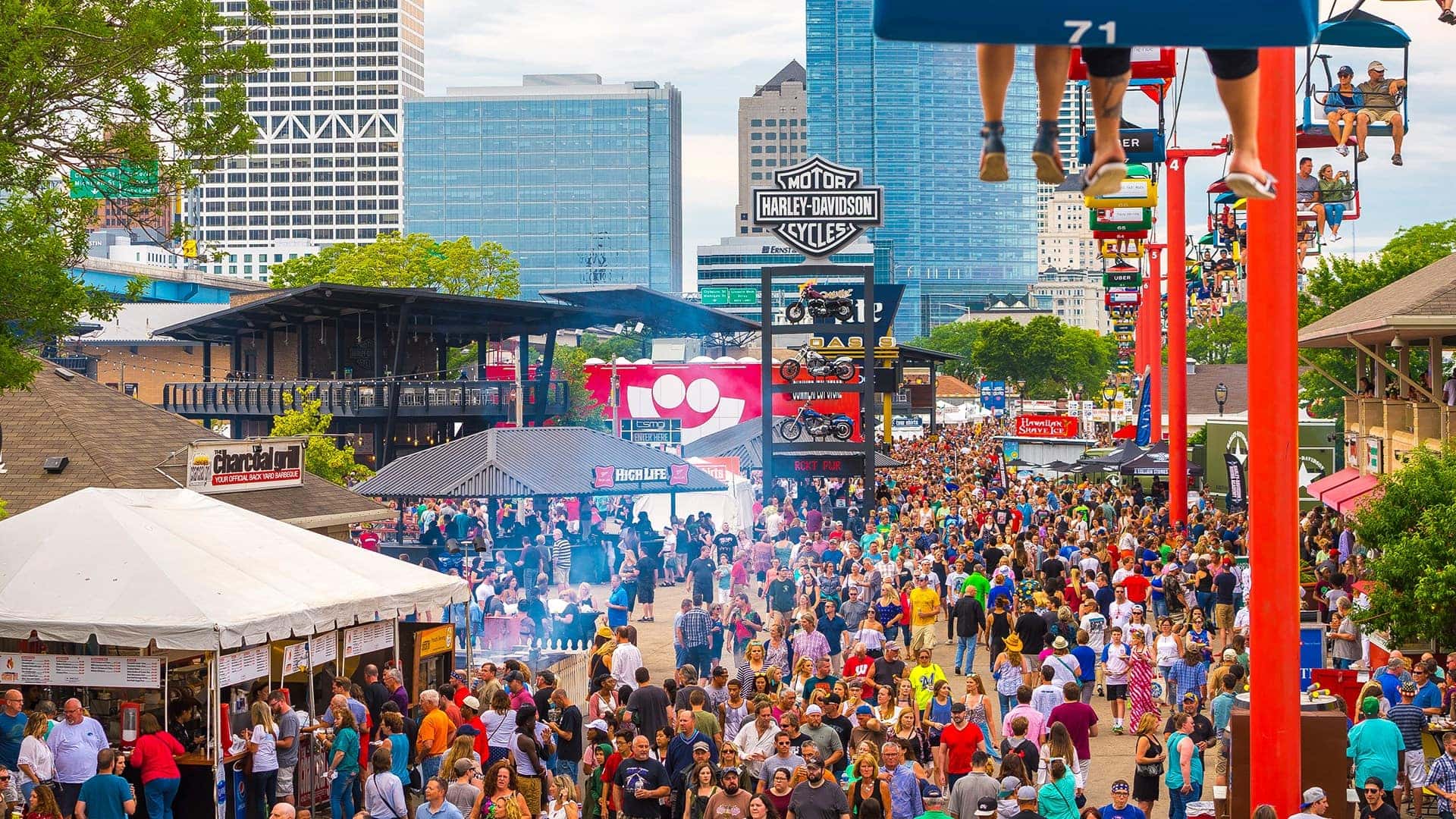 We doubt if we are going too far out on a limb when we predict that most Wisconsinites are probably ready for a serious change of scenery by now. Sequestered at home for the better part of a year, then encased in ice and snow for the past several months, who among us isn't craving a warm summer getaway?  But since flying is still somewhat risky—and cruise ships out of the question—visits to more far-flung destinations will just have to wait.  Which leaves but one good option:  A Wisconsin road trip!
Pandemic or not, there's nothing quite as satisfying for the soul as a few days on the open road.  And there's no finer place to do it than in Wisconsin.
Where you go, of course, depends on what you like to see and do.   But one thing is crystal clear.  Wherever you go in the Badger State, you are never too far from the water. With Lake Michigan to the east, Lake Superior to the north, and the Mississippi River carving out much of the state's western boundary, Wisconsin is surrounded by big water, with everywhere in-between dotted by more than 15,000 lakes and countless picturesque waterfalls. For added enjoyment, you may want to plan your road trips around some of the state's most popular summertime events.
But first, a word of caution.  The COVID-19 pandemic has tossed a wrench into the logistics behind every major event in the country.  Consequently, this summer's warm weather offerings, especially those involving large public gatherings, may change unexpectedly. Some have already been canceled while others have had their dates pushed later into the summer or fall.  Before you leave home, be sure to phone ahead or check online for any changes.  And go prepared with plenty of hand sanitizer and face masks for everyone.
Milwaukee's annual Summerfest music festival is a good example.
Summerfest
Even though its 2020 event was cancelled due to the pandemic, Summerfest is back up and running in 2021!  But there is a noteworthy change in its schedule.  Billed as the world's largest music festival, Summerfest's usual play dates in late June/early July have been pushed into early and mid-September because of the pandemic.
If all goes as planned, the festival's 53rd edition will now take place on the weekends of September 2-4, 9-11, and 16-18; with over 1,000 performances on 12 stages along the shores of Lake Michigan.  This year's performers include The Dave Matthews Band, Guns N' Roses, Luke Bryan, Chris Stapleton, Justin Bieber, Khalid and Blink-182.  Additional artists—as well as the revised concert schedule—will be announced soon.  In the meantime, visit summerfest.com to keep abreast of all the latest news and information.
Other music festivals  that may mesh well with your summer travel plans include Eau Claire's Blue Ox Music Festival, an annual celebration of Blue Grass and Americana music.  This year's concert is scheduled August 19-21.  Bring your RV or camping gear, as the venue features 120 acres of wooded camping situated around the centralized concert area.
Memorial Day Weekend
A great way to kick-off your summer is by heading over to the Princeton Flea Market, Central Wisconsin's largest weekly outdoor flea market.  Held every Saturday from April through October, the market takes place between 6 a.m. and 2 p.m. in the tree-shaded City Park on the east side of Princeton, located on Hwy 23.
Shop for antiques, collectibles, furniture, giftware, seasonal plants and produce, arts & crafts, local honey, and a variety of cheeses, sausage, fresh-made donuts, Amish baked goods and much more.
After the market, be sure to visit Princeton's downtown district which oozes with small town charm and includes a variety of boutiques, restaurants, antique shops, and a vibrant Amish community.
Parks & Recreation
If you are as mesmerized by Wisconsin's majestic outdoors as we are,  the state's Free State Park Weekend offers a complementary weekend pass to the park nearest you.  Or indeed, to sample a new one.  This year's dates are June 5th and 6th.
That same weekend, the state's Free Fishing Weekend invites everyone—especially first-time anglers—to try their luck and see what happens.  It costs nothing and may be the beginning of a life-long passion for one of Wisconsin's most sacred pastimes.
Free fishing weekends are always held the third full weekend in January and the first full weekend in June. Upcoming dates include June 5-6, 2021; January 15-16, 2022 and June 4-5, 2022.
Independence Day Weekend
No matter where you find yourself on July 4th, there will undoubtedly be plenty of fun, food, fireworks, and parades.  The Independence Day holiday falls on a Sunday this year, so the weekend will be bursting with plenty of family-friendly activities.
Fireworks displays, the mainstay of every 4th of July observance, are planned throughout the state.
Use this 4th of July calendar to plan your holiday activities, courtesy of the Wisconsin Department of Tourism.
Wisconsin State Fair
In 2021, the Wisconsin State Fair will celebrate 170 years of tradition and expects to welcome upwards of one million fairgoers during its 11-day run.  As usual, the fair will offer plenty of food and entertainment as well as showcasing thousands of farm animals and their exhibitors.
Held in West Allis—just west of downtown Milwaukee–the fair takes place from August 5th through the 15th.
Meanwhile, Chippewa Falls hosts the Northern Wisconsin State Fair.   The fair, which is back on after being cancelled last year, takes place from July 7th through the 11th.  As always, be sure to check for festival updates before setting off.
Labor Day Weekend
In addition to being the opening weekend for Summerfest, Labor Day Weekend offers one last opportunity for a warm weather getaway before crisp autumn temperatures begins to settle in over the state.
And what better way can there be to keep the heat on than by attending The Fox Jazz Fest?   Now in its 26th year, the festival takes place every Labor Day Weekend at Jefferson Park in Menasha, overlooking Lake Winnebago.  Festival celebrants enjoy free entertainment courtesy of local, regional, and national jazz musicians as they sample delicious food and beverages from a variety of local vendors.
Tip of the Iceberg
The events highlighted above represent the proverbial tip of the iceberg when it comes to places to go and things to do during Wisconsin's warmer seasons.   County fairs, music festivals, flea markets, arts and crafts shows, outdoor theater, casual and fine dining—and just about anything else you can think of—will add a big dose of magic to your summer vacation plans.
The places you ultimately go on your Wisconsin road trips are almost beside the point.  In the end, road trips are all about making memories, releasing stress, and spending quality time with your family and friends.  If you're a city dweller, it's an excellent opportunity to take a ride in the country, or vice versa.  It's also a good break from work, a chance to leave emails and social media behind; and an opportunity to create your own travel adventures without being held hostage by serially unreliable airline and train schedules.
To discover thousands of additional places, events and other amazing travel opportunities, a good place to start is at travelwisconsin.com, the state's official website for travel and tourism.  Then buckle-up and enjoy the ride.