Used Car Lots Milwaukee

Buying a used car is a great way to save some money, make a smart investment, and go easier on the environment, all while getting yourself a great vehicle. Choosing the right used car can be tricky, and it is vital that you pick the right dealership from your available used car lots. Milwaukee is a great place to own a used car, and you have a lot of options available to you, which can make it difficult to know where to turn when you are ready to buy a vehicle.
A used Toyota is one of the best options out there because they are commonly available at some of the best prices around and are reliable for years after your purchase. Even once you decide on a Toyota, you still have to figure out the best place to get one, and you have a lot of choices you can make. A reputable dealer that has been around a long time is definitely the best way to go to ensure you get a great vehicle at a fair price and from someone that will support you for years to come.
Here at Wilde Toyota, we have been in the business of selling the best vehicles near Milwaukee, for decades. We have a tremendous selection of used vehicles for you to choose from; including certified pre-owned Toyotas that combine the best features of buying a new and used model. Our service center can help keep you on the road for years to come, with certified maintenance, replacements, and repairs whenever you need them. Come to Wilde Toyota today and let us help you find the perfect used car for your needs.
Great Selection of Used Models
When you start looking at used car lots near Milwaukee, one of the most important things to check is the size of the inventory each dealer has on-hand. For one thing, a large inventory tells you how committed the dealership is to carrying a great selection of used cars, trucks, and SUVs on their lot. Whenever you look at used cars, you should prioritize the dealers that make it clear they want to be a business in the community for the long-haul and are not a small lot that could close at any moment.

Second, a large inventory means you have more selections and choices that you can make as the customer. Here at Wilde Toyota, we have hundreds of used vehicles on our lot, not only an amazing selection of Toyota models for you to choose from but also excellent used vehicles from other manufacturers. When you visit us and shop our used car lot, you know that you have a fantastic group of vehicles available to you. That is just one way we make sure your shopping experience is as simple and enjoyable as possible.
Certified Pre-Owned Toyotas
Another way we provide a great experience here at Wilde Toyota is with our carefully selected and remarkable inventory of certified pre-owned vehicles from Toyota. While you might think that a certified pre-owned model is just like any other used vehicle, they are actually quite different. When you choose a certified pre-owned option, you know you are getting the very best used vehicle on the road and greater peace of mind to go along with it.
All vehicles certified by Toyota must pass an exhaustive 160-point quality assurance inspection to make sure they are in the very best condition possible. Cars that are too old or have too many miles on them are immediately disqualified, so when you choose a certified pre-owned vehicle, you know it has been treated right by its former owner. While a lot of other used car lots near Milwaukee might only have a few certified pre-owned models to choose from or none at all, we have dozens of these vehicles at any given time.
When you choose a certified pre-owned Toyota, not only do you get the peace of mind from knowing it has been carefully inspected, but you also get a 12-month or 12,000-mile comprehensive warranty and a 7-year or 100,000-mile limited powertrain warranty. That warranty coverage is provided by the manufacturer and is fully transferable with the vehicle. You also get one year of roadside assistance and a free CARFAX vehicle history report so you know everything you can about that vehicle. This makes a certified pre-owned Toyota a great option for the peace of mind associated with a new vehicle and the lower price of a used model.
Certified Service Center and Parts Department

One of the things that really set us apart here at Wilde Toyota is our commitment to you, our customer. There are other dealers out there that offer good vehicles and provide decent customer service, but we go the extra mile. Our certified service center is just one way that we show that – because for us, the moment you buy your vehicle is not the end of our interaction, but the beginning of a relationship.
Our service professionals specialize in working on Toyotas and the other used vehicles that we sell. If you buy your car or SUV from us, then you know that our technicians have seen it before and will be familiar with your vehicle. Even if you did not buy your car with us, you could come to us for any service and maintenance you might need. Our knowledgeable service professionals are always happy to answer all of your questions, work with you to solve problems, and to make sure your vehicle is in the best condition possible.
We have been in the Milwaukee area for decades, and we do not plan on going anywhere. You know you will always be able to turn to us for service or other issues with your vehicle. Whether you have questions about different features, need routine maintenance, or find yourself in need of repairs, our service center, and parts department will be here for you. You will not have to wonder about where to go or hope a local mechanic knows what he or she is doing – you can always come to us to make sure your vehicle keeps running beautifully.
Conveniently Located in West Allis
While we are not located in Milwaukee, we are just west of the city and conveniently located for customers that are anywhere in the area. You can find us in West Allis, just off the I-41 on South 108th St near Holt Park. We are located between the I-43 just south of us, and the 59 and the I-94 to the north of us, so no matter what direction you are coming from, you can find us quite easily. We are open six days a week, Monday through Saturday, and we are always happy to answer any of your questions, discuss financing options, or talk about any other car-related concerns you might have.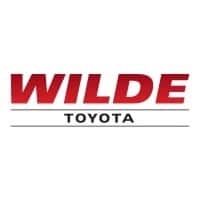 Come Visit Us Today
Here at Wilde Toyota, we pride ourselves on being the very best used car lot near Milwaukee. With our tremendous inventory of used models, including a great selection of certified pre-owned options, and our service center for your long-term needs, we are here for you now and in the future for an excellent car-owning experience. Call or stop by today and discover just how enjoyable it can be to shop for a used vehicle.