Toyota Financial Services is Community-Minded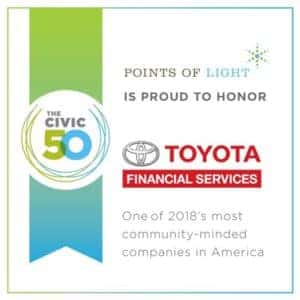 Toyota Financial Services is Community-Minded! Recently, Points of Light Foundation named Toyota Financial Services (TFS) one of the most community-minded companies for the fourth consecutive year.
Each year, the Points of Light Foundation releases the Civic 50, which sets the standard for corporate community engagement nationwide. Winners are selected based on four dimensions of their community engagement, which improves the quality of life in the communities where they do business: Integration, Investment, Impact and Institutionalization.
Toyota was recognized for its initiatives such as the Making Life Easier program, various college scholarships, partnerships with Girl Scouts of the USA and Boys & Girls Clubs of America, and its Community Ambassador program, which promotes team member (employee) engagement within the community. This year, TFS also earned recognition for its Small and Diverse Business Mentorship program, which invites companies to apply for a year-long mentorship with TFS executives who provide guidance in navigating corporate culture and operations.
"It's encouraging and inspiring to see Toyota Financial Services team members continue to engage and support their communities more than ever before," said Mike Groff, president & CEO of TFS, and a Boys & Girls Clubs of America National Trustee. "Our ongoing partnerships with organizations such as Boys & Girls Clubs of America, Girl Scouts of the USA, and Junior Achievement allow TFS to provide educational opportunities and tools to underserved youth. Now we've identified an opportunity to partner with small businesses and diversity vendors as well – helping these companies succeed and give back to their communities in their own way.  TFS is incredibly honored that Points of Light Foundation has recognized these efforts, and again named us one of its Civic 50."
For more Toyota News, Follow Wilde Toyota on Twitter or Like us on Facebook.