The Best Infotainment Systems in Used Cars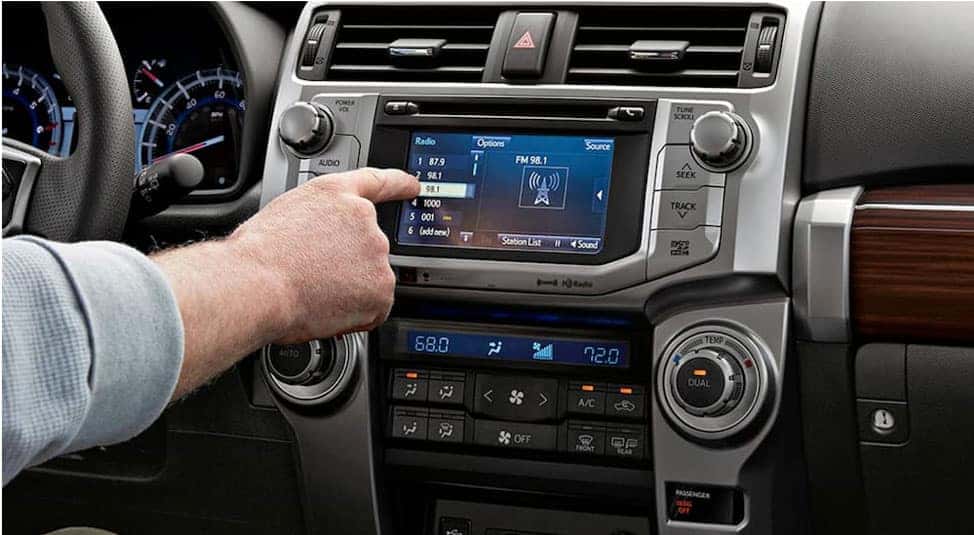 When I was growing up, you were lucky if the used car you bought came with a working AM/FM radio with speakers that didn't buzz. If you were super lucky, the car would even come with an 8-track or cassette player, so you could listen to your favorite music while you drove. But those days are long gone. Today, most cars come with elaborate infotainment systems that combine exceptional stereos with such features as connectivity for your smartphone, navigation, safety information, and driver alert. The key is to find the best infotainment systems in used cars for 2020. This involves looking at the different makes and model years, and following some simple rules. It will also involve you finding a reputable used car dealer, and if you are looking for used cars in Milwaukee, then your best bet is to visit us at Wilde Toyota.
In addition to being Milwaukee's number one Toyota volume dealer, we are also the top volume dealer in certified pre-owned Toyotas in the Milwaukee area. We also carry many used cars from other manufacturers. Come in today to see how our Milwaukee used cars stack up against the competition or simply check out our website. You will be pleasantly surprised by our competitive prices. And you will see how many of our used cars for sale feature excellent infotainment systems.
Apple CarPlay and Android Auto
Apple first introduced its CarPlay app back in 2014, with Mercedes-Benz, Ferrari, and Volvo, the first manufacturers to offer car infotainment systems compatible with the app. Built on Apple's proprietary iOS operating system, CarPlay gives you the pleasure of having Apple's famous virtual assistant Siri help you as you drive. Not to be outdone, Apple's main rival Google released Android Auto in 2015. This app has many similar features to Apple CarPlay and is built on Google's Android operating system. Both provide mapping and music, and since they run on the phone and not the car itself, the only limits are built into your smartphone. Therefore, if you love a used car you have found, but it doesn't have all of the infotainment system features you like, you may be able to get around this if the system is compatible with Android Auto or Apple CarPlay. Make sure you find this out before you purchase the used car.
Bluetooth and 4G LTE Wi-Fi Connectivity
Another key feature in many infotainment systems is connectivity. Most new cars are wired for Bluetooth, and some even will make your car a mobile 4G LTE Wi-Fi hotspot. As you probably know, Bluetooth allows you to make and receive calls from your car's system, so you won't be distracted while driving. Many used cars will have Bluetooth, but don't just make this assumption. Used cars that are over ten years old may not have Bluetooth, so you will need to determine if this is the case before purchasing the vehicle. A Wi-Fi hotspot may be more difficult to find, as it was first limited to top-of-the-line trim classes and luxury brands when it was first introduced. If you can find a used car with this feature, your passengers will thank you because it will allow them to browse the internet, play mobile game apps, and listen to streaming music while you chauffeur them around Milwaukee.
Toyota Entune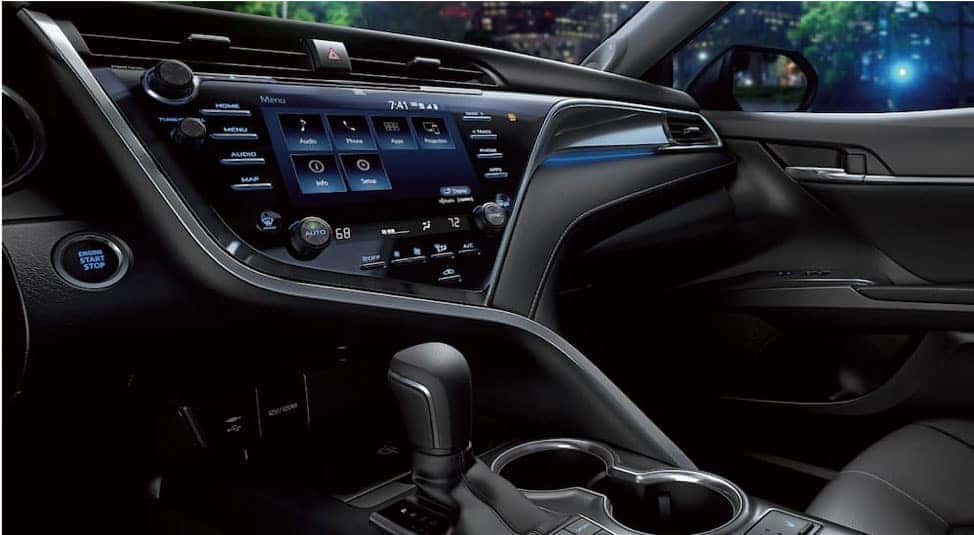 Toyota's infotainment system is called Entune, and it offers a 6.1-inch or 7-inch touchscreen on most models, with Bluetooth, AM/FM stereo, USB ports, and access to apps through Toyota's software. Upgrades to the system include larger screens (up to 9-inch display), SiriusXM satellite radio, Toyota's Scout GPS navigation system, and Amazon Alexa. The colorful touchscreen is conveniently located in an elevated position to the right of the steering wheel. The model year will play a role here, since some features that are standard in newer Toyota cars may not be available in older models. For example, many Toyota cars made before 2019 are not compatible with Apple CarPlay and Android Auto.
HondaLink
HondaLink is the name given to the infotainment system for cars manufactured by Honda. I know, that seems kind of obvious. The system has been improved over the years, as it initially involved two display screens. This not only made it more difficult and confusing to operate; it also led to dangerous driver distractions. Therefore, if you are in the market for a used Honda, try to find one with a one-screen HondaLink system. The standard HondaLink is a 5-inch touchscreen with an AM/FM stereo and Bluetooth. These models will lack satellite radio, Apple CarPlay, and Android Auto. Try to find one with the larger 7-inch or 8-inch touchscreen, which will offer these missing features, as well as integration with Pandora Internet radio and the ability to read text messages to your smartphone on the HondaLink touchscreen.
Chevrolet Infotainment 3
The Chevrolet Infotainment 3 system is the basic system used on all cars, trucks, and SUVs manufactured by General Motors (Chevrolet, GMC, and Buick, with Cadillac models featuring the upgraded CUE system on the same platform). In addition to Bluetooth, AM/FM stereo, and USB ports, this system includes the OnStar telematics system, Apple CarPlay, and Android Auto as standard in all vehicles, and offers a Wi-Fi hotspot as a modest upgrade. The touchscreen display is very user-friendly and allows you to easily access the different entertainment and informational features without risking distracted driving. The Infotainment 3 system was introduced as MyLink for 2012 model year cars, so if you are buying a used General Motors vehicle that came out before that model year, you might not get similar features.
Chrysler Uconnect
Fiat Chrysler America rolled out its own infotainment system called Uconnect for 2015 model cars, which include Chrysler, Ram, Dodge, Jeep, and Fiat cars, trucks, and SUVs sold in the United States. Uconnect actually works with AT&T to connect the vehicle to the Internet, giving it a unique IP address. It comes in 5-inch, 7-inch, and 8.4-inch touchscreens, with the top Ram trucks featuring a 12-inch touchscreen. Fiat Chrysler America has also added unique features depending on the vehicle. Many Jeeps get off-road apps while sports models like the Dodge Charger get a track timer. Uconnect has a proprietary navigation system and is compatible with Apple CarPlay and Android Auto. Most of the current models even feature a Wi-Fi hotspot and SiriusXM satellite radio. Make sure when buying a used model from Fiat Chrysler America that it is a 2015 model year or later if you would like to get the Uconnect system.
Ford Sync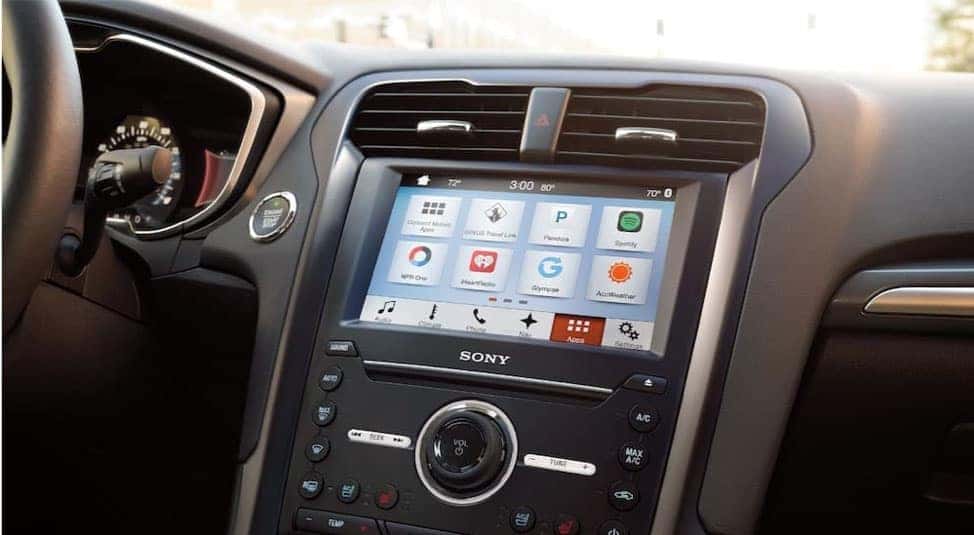 Ford introduced its infotainment system called Sync with 2008 model year vehicles. The early versions of the system were criticized for having numerous bugs, so if you are in the market for a used Ford or Lincoln, try to find one with the upgrade Sync 3 system. This one is up there with Chrysler Uconnect 4 for convenience. It features AM/FM stereo, USB ports, Bluetooth, Sync voice commands, satellite radio, Apple CarPlay, Android Auto, and, in some models, navigation. However, Ford does not offer the Sync system in many base trim levels, so you will need to consider this as well.
Kia UVO 3
Introduced by the South Korean automotive powerhouse Kia for the 2011 model year, the UVO system includes HD radio, Bluetooth, and a digital jukebox. Older models will even feature a CD player. USB ports were introduced in 2014 model year vehicles, with Wi-Fi connectivity added for the 2015 model years. Newer models also feature Apple CarPlay, Android Auto, Pandora Internet radio, and UVO telematics services. Touchscreen sizes range from 7-inches all the way up to 12.3-inches on the 2019 K900 sedan.
Stay Connected With Your Infotainment System
The right infotainment system will provide you with the information you need and the entertainment features you desire while driving your used car. Make sure that the used car you choose has the infotainment features you want. A big part of this is checking out the model year of the vehicle you want. Many manufacturers upgrade their systems over time, like Honda did when it made HondaLink into a one-screen infotainment system after receiving numerous customer complaints. Stop by Wilde Toyota today so we can guide you through this process. We are conveniently located in West Allis, serving the greater Milwaukee area.