Luxury Resorts and Retreats in Wisconsin's Northern Wilderness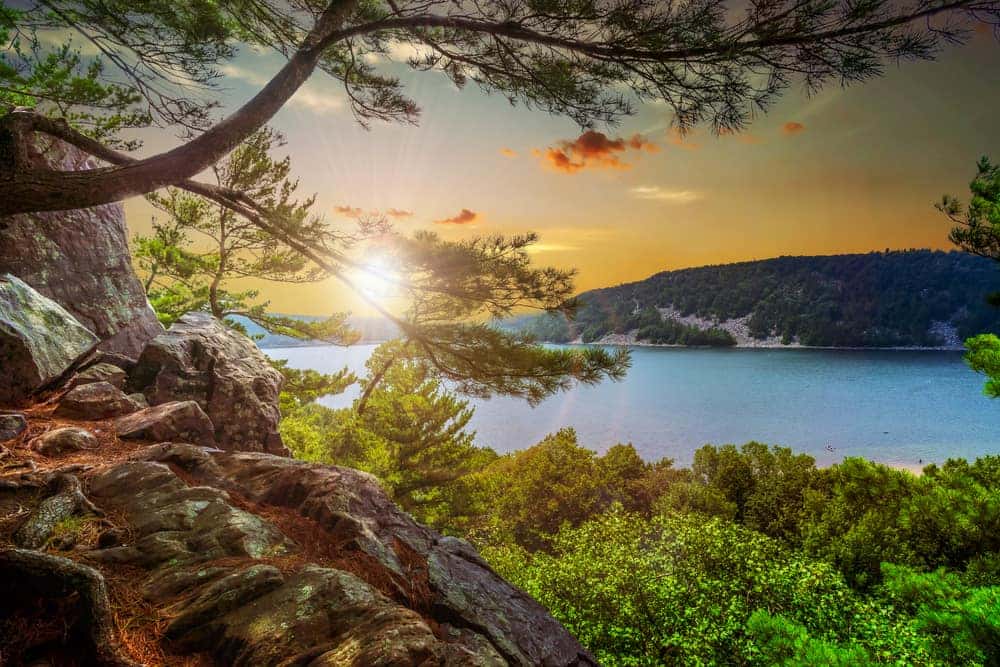 Ah, Wilderness! Discovering Wisconsin's Northwoods
"Everybody needs beauty as well as bread,
places to play in and pray in, where nature may heal
and give strength to body and soul alike."
John Muir, America's Wilderness Prophet
Although born in Scotland,  John Muir, the iconic naturalist, patron saint of the American wilderness and "Father of our National Parks", spent his formative years on his family's farm near Portage, WI.  In 1861 he enrolled in the University of Wisconsin/Madison which was still relatively new and had just 77 students and four buildings.
Given the extraordinary abundance of the Wisconsin landscape (then and now), it is unsurprising that Muir found so much joy and inspiration in combing through its wilderness areas.  For the record, though his grades were just fine, Muir never graduated UW because he skipped the required courses and signed-up only for those that appealed to his environmental interests.  He was already self-taught in the rest.
Needless-to-say, a lot of Muir's Wisconsin has disappeared, the inevitable consequence of another century-and-a-half of population growth.  Still, vast tracts of pristine wilderness continue to stretch across much of the state's northern tier, with the Chequamegon-Nicolet National Forest   covering more than 1.5 million acres of Wisconsin Northwoods.  To the north, the charming coastal hamlet of Bayfield acts as the Gateway to the Apostle Islands, an archipelago of wilderness islands in Lake Superior.  Located off the Bayfield Peninsula, these islands are accessible only by boat.
Apostle Islands National Lakeshore
From Bayfield—which also bills itself as the Berry Capital of Wisconsin—visitors can hike, paddle, sail, or cruise by boat to experience the 22 islands and 12 miles of mainland that make up the  Apostle Islands National Lakeshore, which boasts more historic lighthouses than any other site in the National Park System.  There are nine of them on six islands.
According to Travel Wisconsin, the official website of the Wisconsin Department of Tourism, more than 240 species of birds breed and migrate through the Apostle Islands.  Moreover, the crystal-clear water, underwater rock formations, and fascinating shipwrecks combine to provide outstanding scuba diving opportunities.
On dry land, the park offers hiking opportunities on more than 50 miles of maintained trails. The Lakeshore Trail—on the mainland—extends about five miles from Meyers Beach, past cliffs overlooking the mainland sea caves.   Best seen from one of the regularly scheduled tour boats, the sculpted sea caves—which are the result of centuries of tidal action, winter freezes and spring thaws— feature delicate carved arches, vaulted chambers, and honeycombed passageways.
Island trails also provide access to lighthouses, abandoned quarries, old homestead sites, historic logging and fish camps, beaches, camping sites, and scenic overlooks.
When to go:
Timing is everything if you plan to visit the Apostle Islands.  Summer is the most weather-friendly time of year–particularly July and August—but June and September can still be good, even though the possibility of snow or stormy conditions exist, even in Spring and Fall.   Still, this part of northern Wisconsin is particularly charming and picturesque in Autumn, when the changing foliage is at its peak and the apple harvest is in full swing.  Bayfield's annual Apple Festival—known locally as Applefest—takes place October 1-3, 2021.
Some attractions and tour boat services wind down in the late fall and many close for the winter. Indeed, winter visits are typically discouraged unless you love extreme conditions.  Temperatures of -10ºF/-24ºC are not uncommon.  Additionally, most businesses have taken COVID very seriously and adjusted their operations to provide maximum protection with minimal disruption.
Where to stay:
Bayfield
Camping is available on 19 of the lakeshore's 22 islands and at one campsite on the mainland.
But if you are anything like us, being out among the woodland creatures by day shouldn't preclude enjoying a few creature comforts by night.  In this regard, you will find a variety of superb overnight accommodations in Bayfield, from luxury hotels and historic B&Bs to all sorts of cozy lakeside cottage and cabin rentals.  Many come with a panoramic view of Lake Superior.
Speaking of Lake Superior, I would be remiss if I didn't mention that Bayfield was named one of the Ten Best Small Coastal Towns in America by USA Today in 2020.
Coastal gems like Bayfield are practically why B&Bs were invented; and downtown Bayfield has a bunch. The Old Rittenhouse Inn captured our fancy from the moment we spied its grand Victorian edifice presiding so gracefully over Bayfield Harbor.
Not far away, The Pilot House, another historic B&B, enjoys a similar vantage point with breathtaking lake and harbor views.  Directly fronting the harbor, The Bayfield Inn offers superior resort-style lodging in its 21 luxury hotel rooms and 25+ well-appointed vacation rentals.
Everything you need to know about Bayfield, including every level of overnight accommodations, is available courtesy of the Bayfield Chamber of Commerce.    It includes a complete guide to area lodging, dining, indoor and outdoor activities, ferry schedules, boat charters, etc.
Chequamagon-Nicolet National Forest
Established in the 1930s, the Chequamegon-Nicolet National Forest covers an astounding 1.5 million acres—sprawling across the state's northwestern and northeastern tier and comprised of most of the federally protected land in Wisconsin.
Depending on your preference, you can hike, bike, horseback ride, ATV or snowmobile, cross-country ski or snowshoe for days without covering more than a fraction of the forest's massive 800-mile trail system.  Enjoy the beach at more than two dozen swimming areas—with rivers and lakes also ideal for fishing, paddling, boating and waterskiing.  Or you can simply stay in your car and wind leisurely through the scenic wilderness on several of Wisconsin's rustic roads
Indeed, several routes in Wisconsin's Rustic Roads Program wind through the Chequamegon-Nicolet.
On the eastern side, the gravel Rustic Road 74 makes a meandering, 32.5-mile circuit between state highways 139 and 101. You'll cross over the Popple River, another nationally designated "Wild River," and pass by a 1930s camp for Civilian Conservation Corps workers.
Two more nearby rustic roads are the 9.4-mile Rustic Road 113 in Oconto County and the 8.8-mile Rustic Road 34 in Forest County.
To the west, the paved and gravel Rustic Road 105 offers a scenic 13-mile jaunt to and from State Highway 70. You'll see an 1876 logging dam and will frequently encounter the rambling South Fork of the Flambeau River, a popular paddling destination, and a couple of its tributaries. The highlight of this backroads excursion is crossing the Smith Rapids Covered Bridge, one of Wisconsin's few remaining covered bridges.
When to go:
Summer and fall are the premier seasons for visiting the Wisconsin wilderness; summer for its dependably comfortable temperatures and fall for the spectacular hues of its changing foliage.
Where to stay:
Where you stay when you visit the Chequamegon-Nicolet will probably depend on where you are coming from.  With well over 1.5 million square miles, there's too much ground to cover in a lifetime, much less in a much shorter span.
The best idea is to choose a town or village close to where you will enter the forest or where most of your wilderness activities will take place.  Use this as a base to relax and recharge after your forays into the forest.
It is always wise to choose lodging within reasonable proximity to Highway 70, which is the major east-west route for motorists traversing the forest.
Some options worth noting:
West side of the forest:
                        Grand Pines Resort & Hotel,  Hayward, WI 
                        Heartwood Resort, Trego, WI
                        Holiday Inn Express & Suites Hayward, Hayward, WI
East side of the forest:
                        The Waters of Minocqua,  Minocqua, WI
                        The Pointe Hotel & Suites,  Minocqua, WI
                        The Beacons of Minocqua, Minocqua, WI 
                        Best Western Derby Inn, Eagle River, WI
            Destination Resort:
                        Canoe Bay,  Chetek, WI
                        Lakewoods Resort & Golf,  Cable, WI
                        Four Seasons Island Resort, Pembine, WI            
This is just a small sampling of the available accommodations that dot the perimeter of the park.  For a more complete selection—including things to do, places to eat and other helpful information—check out Travel Wisconsin, the official website of the Wisconsin Department of Tourism.