2020 Toyota GR Supra Impresses with Standard Performance and Value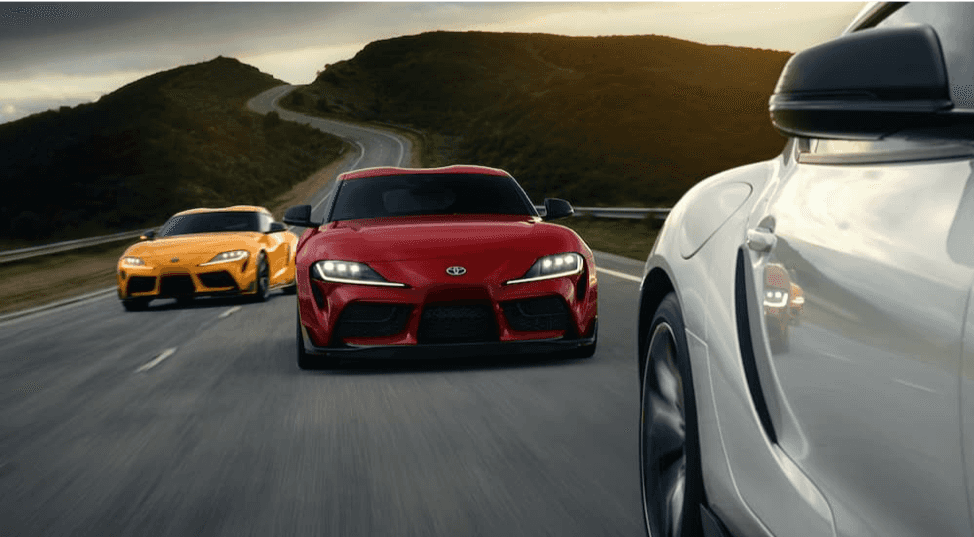 One of the best parts of starting your search for a new car, when you finally find the time to type in those necessary words into your computer is coming across unexpected results. The 2020 Toyota Supra is a good example of one of these diamonds scattered throughout the internet. Unless you're a car enthusiast, you might not know you just discovered one of the best values in the performance coupe segment.
The Toyota GR Supra is redesigned for the 2020 model year. This is a complete redesign that sees Toyota pairing with BMW to create a sports car that offers the styling and performance of an expensive European sports car at an affordable price. If you are looking for the reliability of a Toyota with the acceleration and performance of a sports car, this is one that's worth taking out for a spin.
The Supra shares its platform with BMW's Z4 convertibles, so you know it already has the makings of a fast luxury coupe. The engine is a BMW engine, and it shares its transmission, dampers, and steering rack with the Z4. What sets the Supra apart from the Z4? And, really, from all of its luxury sports car competitors? The price. The Toyota Supra starts at around $50,000, which undercuts similarly equipped models, such as the Porsche 718 Cayman, by more than $10,000. The Jaguar F-Type P340, for example, will run you $20,000 more.
What you get for the price is stellar performance, a refined interior, and lots of standard features you won't find elsewhere. Whether you are considering a Porsche, Audi, or BMW, you will be surprised by how much more you get for your money with the Supra. The list of standard features is impressive. So let's take a look at what makes this Toyota stand out in its class and how it has earned the approval of long-time Supra enthusiasts.
Standard Features
The 2020 Toyota Supra has three trim levels to choose from. The lowest trim is perhaps the most exciting, which is not something you hear often. But when you consider how much comes with the lowest trim level, it is hard not to get excited about it. To start, it comes with an electronic rear differential. This shows how serious Toyota is about performance.
While many other cars offer brake-based torque differentials, the Supra has an active system that can shift 0-100 percent of power between the rear wheels as needed, balancing oversteer and understeer. No matter which trim you decide on, you will be getting the same performance. And that can't be said of any of its competitors.
The list of standard features is actually quite exhaustive: 19-inch alloy wheels, 4-piston Brembo brakes, smart-key fob with push-button start, active exhaust, 8.8-inch color LCD gauge cluster, dual automatic climate control, 6.5-inch touchscreen display, and 10-speaker audio. There's more, but we thought we would give you a moment to digest all of this. 19-inch wheels standard? That's right—and that's a question we field all the time with the Supra.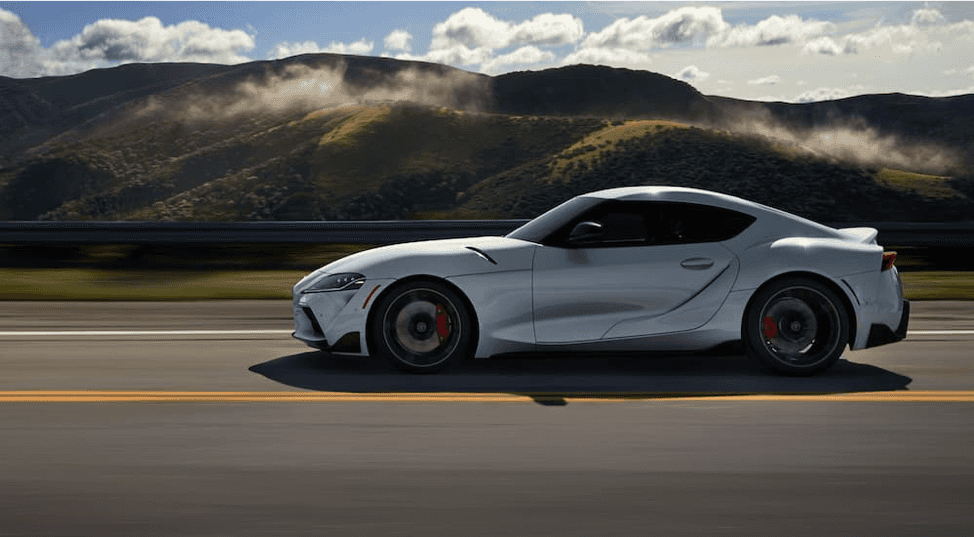 The list of safety features and driver assists is equally impressive. This model has a rearview camera, forward-collision warning, automatic emergency braking, lane-departure warning, automatic high beams, and road sign assist.
Other standard features include heated power-folding mirrors, rain-sensing wipers, Bluetooth, and satellite radio. While other manufacturers might make you pay more for all of these upgrades, the 2020 Toyota Supra includes them as standard equipment.
If you choose to ascend to the next trim—the Premium trim—you'll find for only a slight increase in price a host of luxury features. You'll have an 8.8-inch wide-format touchscreen, a color head-up display, a 12-speaker 500-watt JBL audio system, navigation, heated leather seats, Apple CarPlay, and wireless phone charging. Those are the incredible features you're adding for a price that other cars in its class can't match.
The highest trim level is the Launch Edition, and this one is limited to just 1,500 cars. It comes in red, black, or white, along with unique matte-black wheels. These cars come fully loaded and feature a carbon-fiber plaque on the passenger side of the dashboard, which displays the car's number in the series and has Toyota president Akio Toyoda's signature. The first one in the series sold for $2.1 million, with proceeds benefiting the American Heart Association and the Bob Woodruff Foundation. This car also has a VIN ending in 20201, which stands for the year of the Supra's reintroduction, along with a 1 to signify it was the first Supra off the production line.
Interior
The interior borrows a great deal from BMW, especially from the Z4. You'll find familiar switchgear and an iDrive rotary controller for the infotainment system, along with many other features carried over from the Z4. You'll also note the leather and high-quality plastics. The sport seats offer the support you expect from a performance car. The driver's seat and the passenger seat feature 14-way adjustable settings and 4-way power lumbar support. The driver's seat also features a memory setting.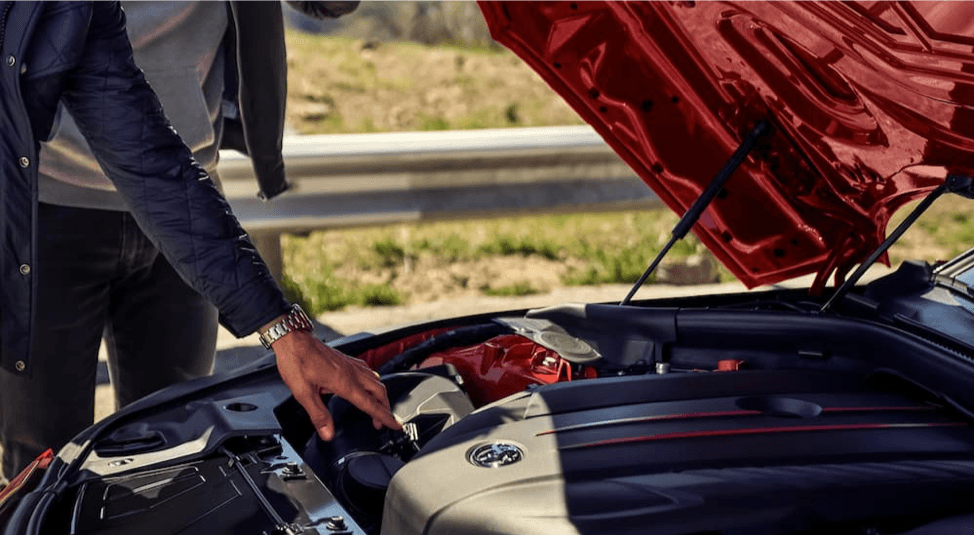 Powertrain
The Supra's engine is one to get excited about. With 335 hp and 365 lb-ft of torque, you will not be short on power. The engine comes from BMW and is a 3.0-liter twin-scrolled turbocharged inline-6. It's paired with an 8-speed automatic transmission that offers manual-shift mode. There's no clutch option, but if you like driving with your left foot, it does allow you to accelerate and brake at the same time.
When you consider that the BMW Z4 comes standard with a 2.0-liter four-cylinder engine making only 255 hp and 295 lb-ft of torque, the Supra is a tremendous buy. Adding to that is the Supra's excellent fuel economy. Even with these incredible performance numbers, the Supra boasts a fuel efficiency rating of 24/31 mpg.
Surprise Yourself
The best way to know if a car is right for you, of course, is to take a test drive. We are the number-one Toyota dealer in the Milwaukee area and one of the largest new and used Toyota dealers in Wisconsin—so we are sure to have something to fit your lifestyle. Whether you are looking for a performance coupe or an SUV for your family, we have something for everyone.
Our staff is extremely knowledgeable and can answer any questions you may have. We routinely win awards for our customer service, and this is because we pride ourselves on developing relationships in the community. You can count on us to give you practical advice so that you can make an informed decision. That's why we have such a loyal customer base and why we are a Toyota President's Award dealer—Toyota's highest honor that recognizes excellence in customer service and satisfaction.
With Wilde Toyota, you always find what you're ultimately looking for, even if you don't know what you're looking for. And we'll take care of you from the day you buy the car from us for as long as you own it. Give us a try and see just how much we know about the fifth-generation Toyota GR Supra, you'll be driving it home in no time.